Mother's Sweet Potato and Apple Casserole
I absolutely love Thanksgiving dinner and have cooked it nearly every year of my adult life, mainly because I want to eat it.  Back when I didn't cook for a living and was living far from family, I'd cook Thanksgiving dinner for 20 friends the weekend after the holiday so they could enjoy Thanksgiving with their respective families while being part of mine. 
Since the dining room at Mother's Bistro is essentially my dining room,my family has ostensibly grown from 20 to 300. We roast, carve, and serve twenty20-pound turkeys, clean 90 pounds of green beans and bake 150 pounds of sweet potatoes for this casserole. 
Print Recipe
Pin Recipe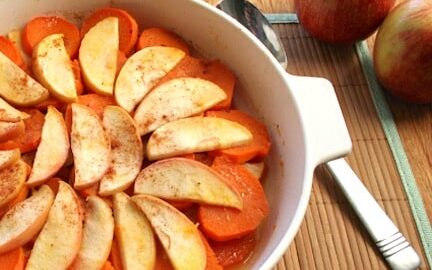 Ingredients
½

cup

salted butter, plus more for buttering the dish

(1 stick)

4

large

sweet potatoes or yams

(about 5 pounds)

5

granny smith apples (about 2 ½ pounds)

I prefer Granny Smith apples for many reasons – they're easy to find any time of year, they keep their shape when baked and their tartness complements many flavors. Here it balances sweetness of sugar and sweet potato.  If cutting the apples ahead, place the slices in water with some lemon juice (to keep them from turning brown) and drain well just before using.

¾

cup

firmly packed light brown sugar
Instructions
Preheat oven to 375º F.  Butter a 9-by-13-inchbaking dish or other similar dish or spray with nonstick spray; set aside.

Pierce the sweet potatoes in a few places with a two-pronged fork (so they won't burst during baking).  Place the potatoes on a rimmed baking sheet or directly on a rack in the oven and bake for about 1 hour or until they offer no resistance when pierced with a fork (they are going to continue cooking in the casserole, so don't over bake.  If you do, the potatoes will fall apart and you won't be able to slice them).  Remove from oven and set aside to cool.

Peel the apples. Stand the apple upright and cut all four sides off, as close to the stem as possible without actually cutting through the stem. (You'll lose a tad of apple, but this way, you are coring and cutting the apple at the same time.  Discard the core (or munch on it while you work) and cut apples into ¼-inch-thick slices.

When the sweet potatoes are cool enough to handle, use a paring knife to strip away the skin. Slice them into ¼-inch-thick slices, or make them thicker if the slices are falling apart.

Arrange a single layer of sweet potato slices as close together as possible, in the prepared baking dish (try not to have too much overlapping). Fill any holes with broken pieces of sweet potato. Top with a layer of apple slices (either scatter them evenly or lay out each slice neatly so they're barely shingled over the other). Sprinkle with half the brown sugar and dot with 4 tablespoons of the butter. Repeat layering with the remaining potatoes, apples, sugar and butter.

Cover dish with aluminum foil and bake in the preheated oven for 30minutes.  Lower heat to 350ºF and bake for another 20 to 30 minutes, until apples are tender.  Remove foil and continue to bake until the apples the top is browned, about 10 to 15 minutes more.